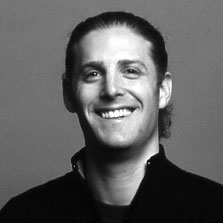 Hayes Raffle is an award-winning product designer and inventor specializing in hybrid physical/digital objects to nurture learning, creative expression, and interpersonal communication. He has served as a Senior Staff Interaction Designer on the Google Daydream team developing new input and interaction paradigms for virtual and augmented reality (VR & AR) and he helped develop Google Glass as a UX and innovation lead.
Hayes holds a Ph.D. and M.S. in Media Arts and Sciences from the MIT Media Lab, and a B.A. in fine art from Yale. Over 80 US patents either pending or granted have been granted for his inventions, and he has published over 40 peer-reviewed academic publications in the areas of tangible media, technologies for learning, and virtual and augmented reality. Previously, Hayes conducted research in Family Communication at Nokia Research, developing new technologies for young children to connect with long-distance loved ones.
By special one-time only arrangement, Invitation Only – July 28th Adventures in Tech Webinar with Dr. Hayes Raffle
If you have an interest in partnering with DELF to bring this presenter to Australia or New Zealand please contact us.
Videos featuring Dr Hayes Raffle from various speaking engagements can be viewed in one location via our playlist on the Digital Entrepreneurs Leadership Forum YouTube channel in order to learn more about this speaker.